Without sacred space for beauty, there can be no true love
C.S. Morrissey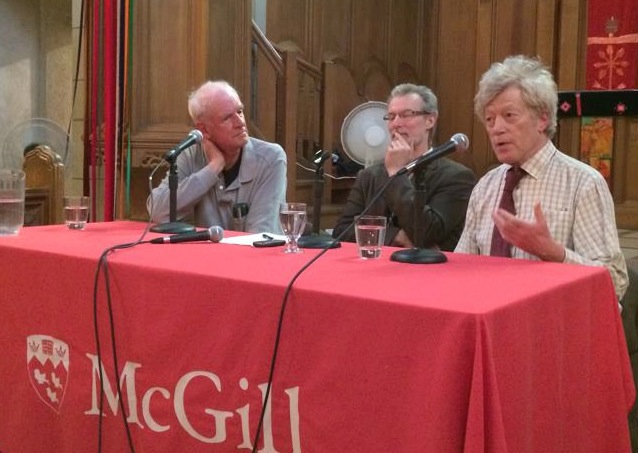 Charles Taylor (left), moderator Douglas Farrow, and Roger Scruton discuss philosophy at McGill University April 13 as part of the conference called "Thinking the Sacred with Roger Scruton". (Photo: C.S. Morrissey / The B.C. Catholic)
"The useless space of music," writes the English philosopher Roger Scruton, "is a godly home." This arresting comment comes in the chapter on "The Sacred Space of Music" in his new book, The Soul of the World.
For many decades now, Scruton has discussed how both beauty and the sacred are under assault in our modern world. Scruton has studied the many ways beauty is dismissed in modern culture as "useless," even by modern artists. The result is that our culture of ugliness fosters a loveless world, one that is out of touch with what is sacred.
Charles Taylor, professor emeritus at McGill University, a celebrated Canadian philosopher and Roman Catholic, was one of many illustrious scholars who gathered in Montreal over Palm Sunday weekend this month to honor Scruton. Scruton himself was present for the unique occasion, an international conference devoted entirely to "Thinking the Sacred with Roger Scruton."
Taylor's interaction with Scruton contributed to a series of engaging discussions over the three-day conference. At one point during their concluding panel on "The Sacred and the Secular," Taylor fulminated over the "calumnies" against Islam he attributed to people like Ayaan Hirsi Ali and Pope Benedict XVI. Scruton, however, steered the discussion back to first principles, and addressed the modern challenge of embracing genuine experiences of the sacred while simultaneously affirming the invaluable roles of secular law, national citizenship, and human reason.
Thanks to the impressive organizational skills of James Bryson, a SSHRC Postdoctoral Fellow at McGill, an extraordinary group of conference speakers gathered in the Birks Building of the McGill Faculty of Religious Studies. Arriving from all over England, Ireland, France, Germany, Canada, and the United States, Bryson arranged for them to congregate convivially.
On the Saturday, visitors were treated to an evening of musical performances and poetry in the Schulich School of Music. The program featured Scruton's own musical compositions, including a scene from his opera, The Minister. Pianist Benjamin Kwong accompanied soprano Kristi Bryson for this electrifying scene (in which tenor Kevin Myers joined her) and also for her performance of Scruton's Three Lorca Songs, as well as a stunning Mozart aria encore.
The magnificent French pianist Alexandra Slaby from the Université de Caen Basse-Normandie also performed a moving composition by Scruton, which invoked both Hesiod and Debussy, being inspired by his flaxen-haired wife, Sophie.
That same night, the Irish Catholic philosopher and writer, Mark Dooley, performed some selections from the poetry of Roger Scruton, also dedicated to Sophie. Among other philosophy books, Dooley is the author of a superb intellectual biography of Scruton. He also edited a judicious anthology, The Roger Scruton Reader. A day earlier, Dooley's plenary lecture had opened the conference with a magisterial overview and detailed appreciation of the great significance of Scruton's work.
In company with Jean-Jacques Rousseau, Scruton is one of only two philosophers in history to have composed an opera. And just this year he published an exquisite novel, Notes from Underground, set in Cold War Prague. It is perhaps his most remarkable achievement to date, but then again he has also written with grace and literary distinction in works like Xanthippic Dialogues and On Hunting. Yet the unique treatment of beauty and the sacred in Notes from Underground uses words to point us towards the ineffable, beyond words.
The beauty of music is a sacred space, beyond words. In The Soul of the World, Scruton observes that although Beethoven's C-sharp Minor Quartet contains no particular story about human life, nevertheless somehow "all human life is there." It is not merely pleasant to listen to. Rather, it addresses us with a challenge.
"There are no easy options, no fake emotions, no insincerities in this music, nor does it tolerate those things in you. In some way it is setting an example of the higher life, inviting you to live and feel in a purer way, to free yourself from everyday pretenses," writes Scruton, "That is why it seems to speak with such authority: it is inviting you into another and higher world, a world in which life finds its fulfillment and its goal."
Scruton notices that listening to music is in a way like dancing to it. Further, there is a difference between the dancer who understands the music, thereby translating it into expressive gestures that fit it, and "the dancer who merely dances along with it, without understanding it."
Scruton is a philosopher who understands and an artist who contemplates true beauty. He is one of the few who dare to write about the higher musical experiences as demanding, from those who understand them, a faithful obedience to what is sacred and what is holy.
Surely such an experience of the sacred is eminently worth defending today. For, as Mark Dooley writes in his book Why Be a Catholic?, "without beauty there could never be true love."
C.S. Morrissey is an associate professor of philosophy at Redeemer Pacific College.